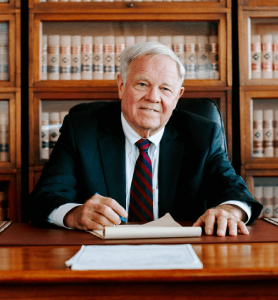 Fire trucks may drive through red lights and move quickly through traffic when responding to an alarm. Although uncommon, fire truck accidents occur and dealing with such cases are complicated. Here at Ryan LLP, we have assisted wounded clients over the years. Our Cleveland fire truck accident lawyer is ready to help you, no matter how complex. Know your legal options with us today.
Experienced Representation From an Established Cleveland Fire Truck Accident Lawyer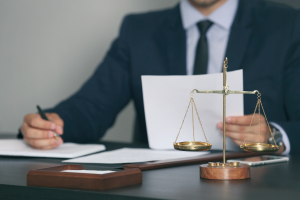 Because of their size and weight, fire trucks can cause more severe accidents. Traffic laws even allow emergency vehicles to travel over the official speed limit. They may run through red lights and would not have to stop at yield signs.
Accidents can occur when firefighters make mistakes while driving. Often, they result in severe injuries and occasionally wrongful death. However, you cannot sue the driver directly if they violate the law.
What Should You Do After a Fire Truck Accident?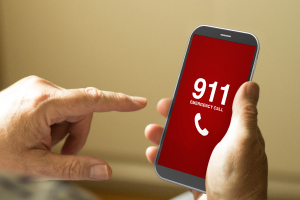 First, it's crucial to handle this kind of accident the same way you would any other kind of auto collision. The following are what you should do after a fire truck accident:
Call 911 and request an ambulance as you report the truck crash.
Photograph the incident and the damages to your car.
Whenever required, get immediate medical treatment.
Contact a Cleveland truck accident lawyer to ensure you aren't being taken advantage of.
Gather the information of the other driver or other parties.
Most emergency vehicle accident claims aren't the same as standard auto accident claims. Government organizations provide these services and require particular procedures.
Fire Truck Accident Statistics in Ohio
An accident involving firetrucks can happen as they travel to the scene, parking at the location, or leave it. Firetrucks usually block highway lanes at roadside car collisions. Doing so increases safety for emergency personnel.
As of 2022, Ohio had the second-highest fire truck accidents in the United States.
In that year alone, the state had 43 fire truck accidents. Of those accidents, 10 resulted in death, and 33 were injured.
From 2012 to 2017, there were 1,192 fire truck accidents in Ohio. Of these accidents, 43 resulted in fatalities. Meanwhile, 849 were injured.
Most accidents (70%) occurred in urban areas, while the remaining 30% occurred in rural areas.
According to National Highway Traffic Safety Administration (NHTSA) and United States Fire Administration (USFA) estimates, fire truck collisions are the second most common reason for firefighter fatalities while on the job.
The lawyers at Ryan LLP have a long history of representing crash victims of negligence. They have the knowledge and experience to get you the fair compensation you deserve. Contact us today for a free consultation.
Common Causes of Fire Truck Accidents in Cleveland, OH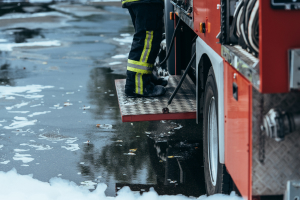 A fire truck accident can happen anywhere. The most common causes are:
Failure to stop: Other motorists ignore that a fire truck is behind them. Most of the time, they continue to drive. Doing so forces firefighters to maneuver around them. It could result in collisions with other nearby vehicles.
Slowing down: Passing emergency scenes can cause people to rubberneck. Cars frequently slow down to look at the disaster. Slowing down can generate traffic. They can even cause accidents if a fire truck attempts to get to the location.
Reckless driving: Fire truck operators can engage in unsafe driving practices. They could take part in speeding through intersections. They could also neglect to yield to other vehicles.
Distracted driving: Distracted driving can hinder drivers. They could be distracted from recognizing risks in time to swerve or slow down. So fire truck drivers must maintain a high level of awareness while managing traffic.
Driver fatigue: Firefighters are notorious for staying up late and working long days. Driving while exhausted can make a driver distracted or slower to respond.
Insufficient driver training: Untrained drivers lack the proper skills to drive a truck. They might not be aware of safe truck maneuvering techniques.
Breaking of general traffic regulations: Driving a fire engine does not immediately give a driver the right to disregard other road users' safety. Only if it is safe to proceed may they do so. Additionally, they are not free to assume that other vehicles would yield to them.
Equipment with flaws or improper storage: Some of the equipment parts might come off the truck and cause other drivers an injury. They could even cause property damage.
A faulty vehicle: The state must also correctly maintain its fire engines. For instance, you may file a claim if the truck's faulty brakes caused the collision. You can also consider filing against another business if they're in charge of the vehicle upkeep.
Ohio's Laws Regarding Emergency Vehicles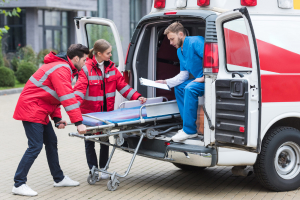 These are regarded as "public safety vehicles" per Ohio law:
Ambulances;
Vehicles used by local officers;
Vehicles used by federal law enforcement officers;
Vehicles used by volunteers and firefighters; and
EMS/EMTs vans and trucks.
In Ohio, public safety vehicles are exempt from almost all traffic laws. The conditions are as long as the driver is:
Responding to an emergency call;
Equipped with flashing, rotating, or oscillating light;
Displaying at least one light visible under normal atmospheric conditions;
Showing the light from a distance of 500 feet to the front of the vehicle; or
Giving an audible alert through a siren, exhaust whistle, or bell.
However, this does not rid the responsibility to obey the provisions.
Emergency services cannot act carelessly because one of their top concerns is other drivers' safety. But, they have more freedom to follow the federal trucking regulations while responding to a call or a fire. Therefore, we must take extra precautions when sharing the road with them.
Identifying Liability in Cleveland Fire Truck Accidents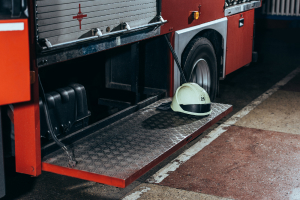 After a fire truck accident, Ohio has a fault-based approach like most other states. The person who caused the accident is responsible for covering the victim's losses.
You can identify the at-fault driver for an accident with our firm's personal injury lawyers. Our legal team makes it easier to determine the liable parties.
A fire truck driver is responsible for any truck crash that they cause. However, governments typically own fire vehicles. Hence, they are responsible for the conduct of their employees.
You can file a claim against the relevant government body if a fire vehicle is involved in an accident. In addition, you could receive financial compensation for your losses.
Recoverable Damages in a Fire Truck Accident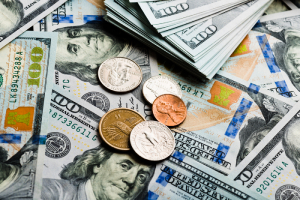 Every accident will have a different set of losses. Every victim will experience various harm. An experienced attorney can offer legal help and determine the available compensation right for you. Some of the typical damages that you can recover compensation from include:
Special Damages
For your expenses and monetary losses, we will demand compensation. These are called special damages. Namely, it covers:
Medical expenses;
Future medical treatment required;
Costs of ongoing care;
Replacement costs, car repairs, and other property losses;
Future and past lost wages;
Lost benefits associated with lost salary;
Diminished capacity or ability to earn; and
Other out-of-pocket costs.
General Damages
Along with compensatory damages, we will also seek payment for non-economic harms like:
Mental anguish;
Emotional distress; and
Pain and suffering.
Punitive Damages
Punitive damages are distinct because they are exact punishments for the at-fault party. If your injury results from simple negligence, these injuries and damages are not permitted. You must be able to demonstrate negligence, malice, or fraud.
Wrongful Death Damages
Ryan LLP will assist you with a wrongful death claim whenever necessary. Contact us if a fire truck accident tragically claimed the life of a loved one. You and your family may file such a case to seek restitution for:
Loss of companionship;
Loss of services from a person; and
Mental and emotional agony.
Our legal team will seek and collect evidence to show the harm you suffered. This evidence includes expenses and other types of damages. We will collect medical bills from medical providers, receipts, estimates, and other documents to determine your claim's value. Contact us today for a free consultation.
Filing a Personal Injury Claim Against Emergency Vehicles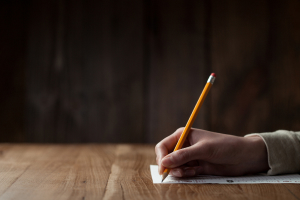 A fire truck accident attorney usually looks into the incident. Your legal team is also the one who establishes liability. They can when they find out what the truck was doing during the accident.
But, it would be very challenging to hold the fire truck responsible for damages. For instance, if they were responding to an emergency and had their lights and sirens on.
Municipal governments are the targets of lawsuits against fire truck drivers. Knowing that the law may shield them from litigation is crucial. In similar circumstances, the doctrine of sovereign immunity protects them from lawsuits.
Gathering Evidence
It is crucial to collect evidence while filing an emergency vehicle accident lawsuit. Our legal team will receive a copy of the police report about the incident.
We compile any images you or any witnesses may have taken. We also search for potential video evidence from local traffic, weather, or security cameras.
Our attorneys will look for witnesses who did not immediately come forward. Moreover, we will request statements from every witness.
Ryan LLP will also look into the history of the truck driver and the trucking company in-depth. Through this, we will see whether there have been any past traffic offenses, accidents, or regulatory violations.
Discovery Period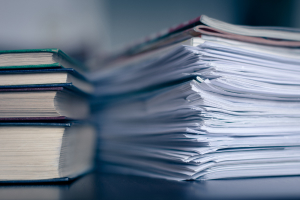 Discovery is one of the pre-trial stages. During discovery, the exchange of information between the parties involves:
Interrogatories (questions);
Requests for documents; and
Depositions (out-of-court interviews with witnesses and relevant parties).
There will be unavailable data and documents if one does not make a discovery request. Hence, discovery is necessary to conduct our inquiry.
Our Cleveland truck accident lawyers will establish our independent investigation. Additionally, we will compile as much information as possible.
All these are useful before filing a semi-truck or any truck accident lawsuit and serving discovery.
Coordinating With Experts
We will consult with one or more specialists to support your claim in this situation. These experts include accident reconstructionists, engineers, and other trucking specialists. They testify to the opposition's activities and why they amounted to negligence.
Ryan LLP may also appoint a medical specialist to help address your serious injuries. These injuries include the pain you dealt with and the future medical care you will need. They may also involve traumatic brain injuries and wrongful death.
We may also hire an economic expert to assess your ability to work. It would include your lost wages and benefits if you had significant injuries.
Utilizing Witnesses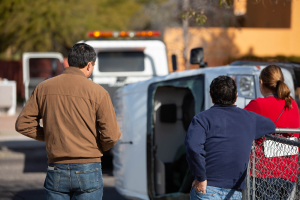 Witnesses of your truck accident might significantly alter the outcome. They can help, especially if they are unbiased third parties. We will ask anyone willing to testify to describe what they saw and heard in court.
Statute of Limitations in a Fire Truck Accident Cases
A statute of limitations applies to all litigation. This statute serves as a period for people to file their lawsuits in court. Each has a different duration depending on the nature of the legal claim.
Ohio Revised Code 2305.10 outlines the statute of limitations for personal injury claims, including truck accidents. Accident plaintiffs have up to two years from the collision date.
Within these two years, they must submit their lawsuits against those accountable. Otherwise, the court may forfeit any right to compensation. Hence, it is crucial to register their legal claims in court within this time frame.
Respecting the statute of limitations is essential to any personal injury claim. In the wake of catastrophic incidents, injury victims rarely consider calling attorneys. However, delaying legal counsel for too long could harm your claims. The truck accident statute of limitations could nullify your ability to seek compensation.
How Can a Cleveland Truck Accident Lawyer Help You?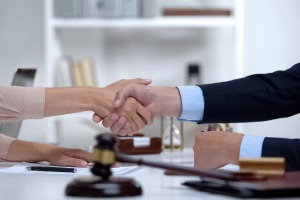 Some drivers think about handling their truck accident claim to cut costs. However, there may be more drawbacks to defending yourself than advantages. In the long term, it could cost you a lot more. When you work with Ryan LLP, our team will:
Offer Legal AdviceReceiving compensation after an accident can be very difficult. It is challenging, especially if it is your first time making a claim. But, you do not have to worry. Our team offers professional and encouraging legal advice regarding what to do after an accident.
Work with Insurance BrokersAfter your collision, insurance adjusters could intervene to speak on behalf of the truck driver. Remember that these reps are more focused on the success of their companies. They value that more than your welfare.Let us handle things so you can concentrate on feeling better. On your behalf, we will:

Answer all calls;
Review your insurance policy;
Provide the insurance company with accurate information; and
Counsel you on accepting an offer.

Look Into Your AccidentAfter a truck accident, our primary goal is to develop your claim promptly. You can rely on us to:

Contact any witnesses;
Investigate the trucking company;
Go to the collision site; and
Get a copy of the police report.

To understand more about your accident, we might also speak with experts in accident reconstruction.
Keep Track of Your LossesOur team will assist you in keeping track of your medical costs and other losses. We recognize the value of keeping track of all the losses connected to your accident.
Fight for CompensationThe attorneys at Ryan LLP focus on assisting you in obtaining a fair settlement for your losses. This situation can necessitate extensive discussions with an insurance carrier under some circumstances. In other cases, we could back your lawsuit filing.Our law firm is open anytime with free consultations. The attorney-client relationship also covers these. Call us today to schedule yours.
Schedule a Free Consultation With a Reliable Cleveland Fire Truck Accident Lawyer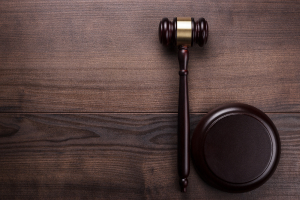 It might be challenging to prove a fire truck accident claim. The fire truck driver can assert immunity from liability. And they can even allege that you somehow contributed to the collision. But, you have legal options if you were in a crash with a fire vehicle. Even though a lawsuit against the local government is complicated, it is possible.
Our Cleveland personal injury lawyers at Ryan LLP have great expertise in handling truck incidents. We are familiar with the specific legal nuances involved in these unusual forms of cases. To find out your alternatives, call us immediately at (216) 600-0308. You may also submit your claim online for a free consultation. We're here to make sure you receive the best possible legal representation.